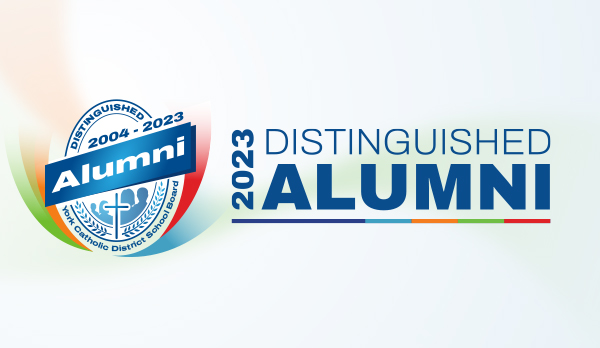 The York Catholic District School Board is proud to announce its 2023 Distinguished Alumni Award winners. Each year, the Board selects six graduates who spent the majority of their formative years with YCDSB and who have gone on to make significant contributions in their respective careers and communities.
Every year new Distinguished Alumni on posters are widely distributed across York Region. The York Catholic District School Board is pleased to announce the 2023 Distinguished Alumni:
Sportscaster, CBC Sports and OneSoccer analyst, Andi Petrillo, is the winner of the Canadian Screen Award for Best Sports Host. Andi continues to break down barriers for females in sports broadcasting, where she has been the first woman in multiple categories in her field. Andi is a graduate of St. Joan of Arc CHS in Maple.
Professional basketball player, Andrew Nembhard, is currently playing in the starting line-up of the NBA's Indiana Pacers. He has represented Team Canada in FIBA competitions at the U-16, U-17 and U-18 levels and the senior national team at the 2019 FIBA World Cup. Andrew is a graduate of St. Jerome CES in Aurora.
Digital marketer and cartoonist, Daniele Rossi, has been drawing comics and stuttering for most of his life. He offers support to many people who stutter through his "Stuttering is Cool" podcast and his online community, Stutter Social. Daniele has published a book also called Stuttering is Cool which has been used by speech therapists. Daniele is a graduate of St. Elizabeth CHS in Thornhill.
Jim Anderson, manages several Rogers tv studios in York and Durham regions. He also directs many programs including, "The Parenting Show," Santa Claus parades, live election coverage and Ontario Police Memorial observances. He serves on the Board of Directors for Georgina Cares. Jim attended Our Lady Help of Christians CES and graduated from St. Robert CHS in Thornhill.
Assistant professor and researcher, John Calarco, does extensive research in the Department of Cell and Systems Biology at the University of Toronto. He is also a Canada Research Chair in Neural RNA Biology. He attended U of T and started a research lab at Harvard University. John attended St. Francis of Assisi CES, St. Peter CES and Father Bressani CHS in Woodbridge.
Registered nurse, Maria-Rosa La Neve, works at SickKids Hospital as a clinical research nurse coordinator and RSV nurse coordinator. She is currently working in the Division of Infectious Diseases, specifically in the Respiratory Syncytial Virus (RSV) program. Maria-Rosa attended St. Rene Goupil CES, St. Michael Catholic Academy and graduated from St. Robert CHS in Thornhill.
The YCDSB is also pleased to share the below video which shares some of the amazing contributions of these winners.